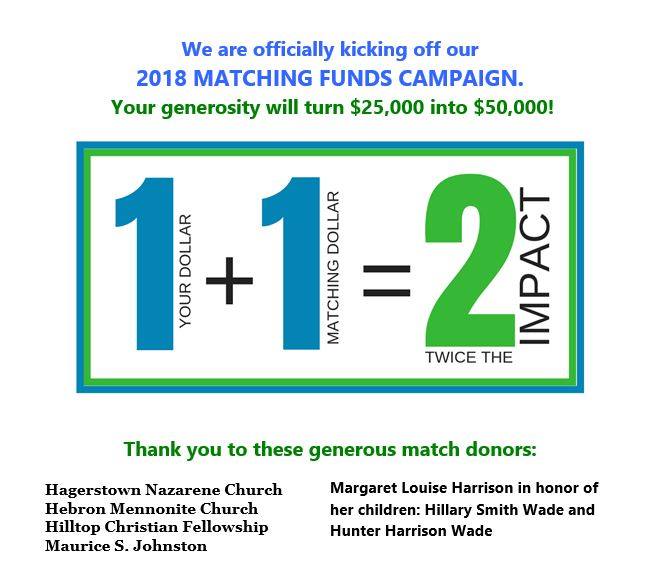 Once again we are incredibly blessed to have generous donors providing up to $25,000 in matching gift funds! We challenge you to take advantage of this opportunity to donate once and make twice the impact between now and December 31, 2018.
Our mission is to support and strengthen the community by preventing and resolving homelessness in Washington County. We empower individuals and families to move toward independence and stability through compassion, education, advocacy, and resources. To learn more please check out our video.
Due to generous support of the community in 2017 we were able to support 3,500 Washington County residents through our programs: a place to sleep in the cold weather during a brutally cold winter (6,664 shelter bed nights), case management, crisis services, mail services, eviction prevention, IDs and birth certificates, permanent housing, financial literacy, and crisis support. This year our dedicated case managers have already permanently house 38 individuals. None of this would be possible if it were not for your support.
That is why I am writing to you today. With the addition of a new case manager and program growth, we can help more people attain independence. Your support will help us provide critical services from homeless prevention to independence which includes permanent housing. How amazing is it that together we can help our county's homeless move from the streets to a warm bed with food and job possibilities?
You can help us support our clients by preventing and resolving homelessness in Washington County today.  Here's what your tax-deductible donation can provide:
$1,000 will provide first month's rent and security deposit toward permanent housing
$500 will aid toward eviction prevention
$250 will provide utility assistance and financial literacy support
$100 will provide a warm bed for a homeless person for two nights
$50 will provide a warm bed for a homeless person for one night
$25 will provide an ID card or birth certificate
We want to extend a big "thank you" to these gracious grant donors: Hebron Mennonite Church, Hilltop Christian Fellowship, Hagerstown Church of the Nazarene, Maurice S. Johnston, and Margaret Louise Harrison In Honor of her children Hillary Smith Wade and Hunter Harrison Wade.
Please know that your gift will help individuals and families find housing security and peace of mind. Don't let this generous matching donation slip away. Send your gift via mail with the enclosed return envelope or donate online at  anytime between now and December 31. You must have a PayPal account to donate on our website (no fees added).
Warm Regards,
Dana Jenkins, MBA – Executive Director